JUNE 2017 ISSUE: OUR 28th year of publication, CMM is bigger, bolder, brighter, now MORE PAGES, FULL COLOUR THROUGHOUT - and the 2017 Almanac, the 'bible' for enthusiasts is HERE!
Subscribe now and you can get Britain's most comprehensive events booklet - the 2017 Almanac - from only £1.75 extra; a genuine bargain for this essential publication! For more details on this super diary - worth up to £9.95 plus p&p alone, click here. As usual, in our latest issue - in the year where we celebrate our 28th Year of Publication - we've a run down on all that's best in the classic car world!
In the June issue,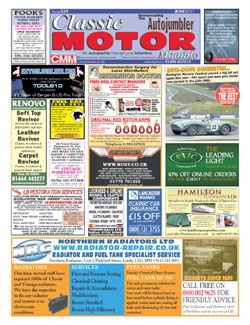 On Your Marques looks at the Rolls-Royce Round Britain Tour, the Figaro Rally and more. Magpie checks out the Miniature Marvels, and in the Spannerman column it's Spannerman & Snow. Our column by former National Motor Museum Curator, Michael Ware, includes a look at The Manx Heritage Transport Museum in Wareabouts, while Peter Love gives us another Love Steam and Commercial Break. There are news snippets galore, our Letters column, and our look at the world of the autojumbling with The Secret Autjumbler. Grant Ford's Fordie's Favourites checks out his favourite classics, we preview the big upcoming events including a coupon to get £3 off admission to the 38th Bristol Classic Car Show, plus reviews of recent events including Beaulieu Spring Autojumble, the Ingliston Revival, Donington's Historic Festival and more. Landers Lobby urges you to Watch Out For Cameras. We check out the upcoming Billing Off Road Show, the new Yorkshire Classic Car Show and the Epsom Classic Car Rally. Look out for all the news and snippets, plus all those ads for upcoming events; no better time than now to think about that subscription than the June issue!!
Our letters page has, as usual, your views on the issues of the day and more. We feature more services and spares than ever in our ads section, a look out too for Klaxon's Readers Problems, the CMM Crossword from Alvina Williams where you can win fabulous prizes courtesy of our sponsor Gunson, On Your Marques, club news, Get Set, news snippets, our fascinating 'All You Wanted to Know' column with Minerva, book & video reviews, the latest products and services, and the biggest events section of any publication in the U.K., featuring all the events, autojumbles, auctions and collectors swapmeets that YOU want! Why not order your copy today and get the 2017 Almanac from only £1.75 extra! CMM makes the ideal gift! For subscription info., click here!
Why not download a sample page (download is in Adobe Acrobat PDF file format - 150kb) of CMM? If you wish to download the sample page, click here.
PLUS, this and every month, 1000s bits, 100s of cars, loads of essential services for you in our Classic-fieds to wade through in our Classic Motor Mart & Autojumbler sections, and the biggest Events Diary section of any publication in Britain. Another good reason to subscribe now! Safe, Secure Ordering through CMM! You'll find a selection of last months ads, a sneak preview of this months ads, PLUS the latest ads On-line, by clicking here.
AND...subscribe NOW - using our brand new Secure Server Form - you can get FOR ONLY A SMALL EXTRA CHARGE, our Year 2017 Events Diary and Almanac that's worth £9.95!!
Be sure of getting the 2018 Edition FREE by staying on our mailing list and don't forget to visit our events page and send us YOUR events dates. Want to know more about CMM? Get the facts here.
June Issue Previews...
WHEREVER YOU GO WATCH OUT FOR CAMERAS...
WHEN LOCAL AUTHORITIES WERE AUTHORISED to take over the running of traffic cameras, the motoring organisations predicted that they'd use them as cash-cows, to supplement their diminishing income. Too true...
A news report from the BBC, based on replies to 'freedom of information' requests, estimates that councils have taken £31 million from these cameras in just one year. (Some figures were difficult to split down and itemise, so the total could be even higher.) The worst offender is a camera guarding a 'buses only' section of John Dobson Street, in Newcastle-upon-Tyne. It alone accrued £1.5 million over an eight month period in 2016 - an average of nearly £6,200 per day! I know this camera... I fell foul of it last July. A short description of the road layout should make it clear why I (and so many others) ended up paying a Penalty Charge Notice (PCN).
Access to John Dobson Street (JDS) from the A167M Central Motorway has always allowed the option of both left and right turns. Turning right, northwards, would have been most people's choice in the past - taking an important dual-carriageway link that led to the top end of the city and the University. However; the council, in its infinite wisdom, decided to stop this through traffic - by making the final part of JDS (just a 54-yard length) into a 'buses only' section. This now means that - for cars and vans - the upper part of JDS leads only to a cul-de-sac containing a public car-park, called Ridley Place. If drivers fail to realise this, and don't pull off into Ridley Place, they're heading straight for the restricted section, with no way out.
I hadn't been into Newcastle for some time; it was fairly late on a Saturday evening and there was hardly any traffic about. As I waited at the lights to enter JDS, there was nothing to suggest any change in the road layout beyond. There weren't any warnings of any sort. I turned right, as usual. Then, all of a sudden, the 'buses only' sign and no option but to carry on through. That sinking feeling... I've just done something naughty and it's bound to cost money. Sure enough, a PCN in the post (along with a delightful photo of the little Panda). Pay now and it's £30, wait (or contest it) and it'll cost £60. I paid. Along with about 200 others that same day. 200 each and every day.
Newcastle City Council says: "The cameras aren't there to generate cash." And: "Any income generated from cameras are [sic] reinvested in the delivery of the city's public transport systems and highways maintenance."....
From The Landers Lobby in our June issue; read the whole article, subscribe today!
GORDON BENNETT TROPHY 1902
THE INTERNET HAS BECOME A source in satisfying my new addiction, for I have succumbed to the joys of vintage motoring literature and within that the exploits of the earliest motorsport pioneers. Whilst many scribes offered alternate versions of events over a century past, one factor dominates my research; the competitors were all single minded, brave and often reckless.
The dawn of motoring in Europe centred on Paris, early competition within the industry involved arduous endurance races called Les Grandes Epreuves (The Big Events). 
Named after the wealthy owner of the New York Herald, the Gordon Bennett automobile races ran from 1900-1905. Bennett, a keen sports fan recognised the potential to fill pages of his paper with an exciting series of endurance events, competing nations supplying vehicles of which every part was home produced; although it is said he never drove a car or attended any of his races.
France led the world in automobile development at the time and Bennett approached the countries auto club with his plan; the competition would be held over a minimum of 300 miles and the subsequent race would be held in the nation of the winning driver. In 1900 victory of the Paris-Lyon race went to Fernand Charron (fra) in a Panhard thus the 1901 event remained in France and was again won by a Panhard in the hands of another French driver Leonce Girardot. Two major problems faced the organisers of these early road races, fatalities involving both competitors and spectators plus the closing of public roads which proved most unpopular. The 1902 race for the Trophy was between Britain and France, the overall event was from Paris to Vienna, but within that the two nations would contest Bennett's prize; their race culminated at Innsbruck.
The village of Champigny-sur-Marne outside Paris was packed with flag waving enthusiasts cheering nervous drivers who with with their ride on mechanic's faced the first stage of 253 miles to Belfort near the Swiss border. The French team consisted of the previous year's winner Girardot (CGV) with Fournier (Mors) and Rene de Knyff in a powerful Panhard.
Their challengers from across the Channel included Arthur Callan and Montague Graham-White both piloting Wolseley 30s and Selwyn Edge in his Napier. At the turn of the 1900s, Edge raced a Panhard which had enjoyed some performance enhancements by his friend Montague Napier who would often act as his riding mechanic. Just one part of the mechanic's role involved fixing breakdowns; race cars of the time couldn't function without one.
At speed their responsibilities included keeping fuel pressure via a pump, controlling oil 'drip-feed' lubrication as engines of the time ran a total loss system. They would oil the drive chains, adjust the leather brakes and watch out for other competitors; all under race conditions. In 1901 Edge had entered a 17 litre Napier that proved far too powerful for the Dunlop tyres originally fitted but by changing them to a French manufacturer, Edge was excluded from the results. In 1902 the 6.5 litre Napier offered 50hp and proved more suitable for an endurance race that would reduce the field dramatically; one way or another.....
From Fordies Favourites in our June issue; read the whole article, subscribe today!
SPANNERMAN & SNOW...
SOMETIMES, I SPOT SOMETHING IN what I've written and I know straight away that it will be a cause of further debate.
One such reference was made last month when I commented on how good or poor the insulation in the lofts of particular houses might be. But I was not challenged on what effect the level of insulation might have on any snow above it, but rather it was where the snow was that caused reaction. I had said "..we often see that some of the rooves start to lose their covering of snow before others..". A good number of people told me that the plural of roof was roofs, but I simply told them to check a dictionary. Okay, I admit that that even the dictionary I checked told me "rooves" was an old usage, but somehow I took a small amount of pleasure from that. After all, "Spannerman lives in the past" is hardly likely to be sensational news that holds the front page, is it?
Meanwhile, whilst still on the topic of snow, I must say thank you to Roy Hammond who has sent in a note regarding his experience of pre-heaters for cars. Roy came across them whilst living in Canada in what he calls the dim and distant past, and he's also given us some information on a supplier for current equipment. His letter can be found in the Classic Torque Reader Letters pages of Classic Motor Monthly, and I even managed to follow his directions to the website of the Norwegian firm he mentioned. And thanks for the kinds words, Roy. It was good to see Roy's safety first reference to "..remembering to first unplug the pre-heater cable from the mains..", and this tied in with another tale about the need for safety first that I heard. One cold winter's morning, a Fiat 500 pulled into a petrol station forecourt with flames coming out of its rear end. As other horrified customers pointed out the predicament, the driver recalled the blanket he'd wrapped around the engine the previous evening to help keep the overnight frost at bay. Fortunately, the fire was not too serious and opening up the engine cover and pulling away the blanket soon had everything under control. As with all things, safety first is essential.
Let's get BACK TO BASICS on gearboxes and we'll start with the matter of double de-clutching. Last month I gave what I described as a quick explanation of the technique, and I promised to give further information this month. Several people pointed out to me the important part of double de-clutching which I had missed out, and I had to remind them that the whole point of me saying I'd "do a bit of digging" was that I have to hold something back to reveal after my digging.
So let's have a think about why it used to be necessary to double de-clutch. I'd already dropped a hint last month when I said that modern gearboxes have a synchromesh system that takes account of the differing speeds of the internal components of the gearbox and this ensures that the gear changes take place smoothly.
So it's all to do with the speeds of the various components, and double de-clutching is used when you are going down a gear, say from third to second, and an important element of the process that was missing from my quick explanation is that you need to blip the throttle in the middle of the process. So here's the expanded explanation.
The clutch pedal is pressed once and the gear lever is moved so that the currently selected gear is deselected and the gear lever is left in the neutral position. The clutch pedal is then released. The throttle pedal is pressed and released to briefly increase the engine revolutions, and then the clutch pedal is again pressed and the gear lever is used to select the newly required lower gear, after which the clutch pedal is finally released. We'll look further at why we use the throttle later.
Now that we know that the technique is used when changing down through the gears on older cars where the gearboxes did not have a synchromesh system, we can have a think about what lies behind the need for this. With my usual warning that I'm relying on my descriptive abilities to explain a complicated mechanism, we'll take a look at a typical modern gearbox.
I've tried to put things in an order that can easily be followed by anyone who doesn't know one end of a gearbox from another, and I'll admit that I've referred to a couple of technical manuals to try to make sure that I've got my terminology correct since I'd hate to fall foul of those who know much more about gearboxes than I do. If we think of a typical rear wheel drive gearbox, we'll see the input shaft poking out of the front of the gearbox, and the output shaft in line with the input shaft poking out of the back.....
From Spannerman in our June issue; read the whole article, subscribe today!
  CMM FACEBOOK PAGE EXCLUSIVES!
RECENT ADDITIONS TO CMM'S Facebook page include:
A Photo album for the The NEC Classic Car & Restoration Show 2017
A Photo album for the The Lancaster Insurance Classic Motor Show 2016
A Photo album for the The National Restoration Show 2016
A Photo album for the The 27th Malvern Autumn Classic Car Show & Autojumble
A Photo album for the The Footman James Classic Car Show Manchester 2016
A Photo album for the The 50th Anniversary International Autojumble
A Photo album for the The Passion For Power Classic Motor Show 2016
A Photo album for the Lytham Hall Classic Car & 'Bike Show 2016
A Photo album for the Ackworth Steam Rally 2016
A Photo album for the Leighton Hall Classic Car & Motorcycle Show 2016
A Photo album for the At the Bristol Classic Car Show 2016
A Photo album for the Lancashire Automobile Club Manchester to Blackpool Run
A Photo album for the 30th Tatton Classic Car Show
A Photo album for the Capesthorne Hall Classic Show
A Photo album for Beaulieu Spring Autojumble
A Photo album for Malvern Spring Classic and Mini Show
A Photo album for Spring Vehicle Meet at The British Commercial Vehicle Museum
Look out too for videos associated with some of those events on our Facebook page! Don't forget to 'Like' us!